Wideo do utworu "Young Blood"
Nory Jones jest nie tyle interpretacją, co odwzorowaniem tekstu piosenki poprzez obrazy. Swoisty ukłon wobec zwolenników klipów, na których pokazywane jest dokładnie to, o czym w danym momencie śpiewa wokalista (tzw.
literal version
). Ten osobliwy kolaż/mix pozornie nie związanych ze sobą technik, formatów filmowych oraz zdjęć nabiera znaczenia i nowych treści wyłącznie w kontekście słów utworu. Przy realizacji "Young Blood"
Toben Seymour
wykorzystał ponad 200 różnych fragmentów filmowych.
Efekt końcowy można podziwiać poniżej:
Nora Jones
"Young Blood", album
The Fall
(Capitol)
Reżyseria i edycja: Toben Seymour
Produkcja: Danny Lockwood, TK Broderick, Toben Seymour (Little Minx i Black Dog)
Nakręcony: Canon 5D
Premiera: III 2010
Kolejny nowy teledysk, którego nie można oglądać na Youtube/VEVO z polskiego IP...
Toben Seymour przyznaje, że inspirował się pracami radzieckiego dokumentalisty
Dżigi Wiertowa
,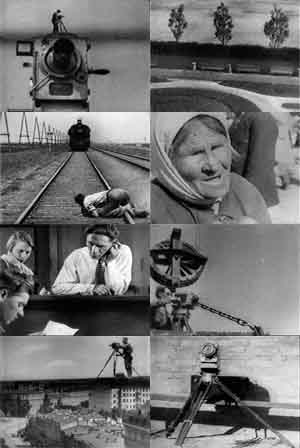 a w szczególności obrazem "Człowiek z kamerą" z 1929 roku, w którym ów stworzył obiektywny obraz życia w Rosji u schyłku lat 20-tych. Aby uzyskać podobny efekt oddziaływania obrazu, Seymour utrwalał wiele przypadkowych scen, ludzi i miejsc często filmując z ukrycia. Dzięki tym zabiegom w teledysku zawarte zostały niemal wszystkie aspekty ludzkiego życia tj. praca, śmierć, przemoc, zabawa itp. Wszystko to utrwalone w pozornie błahych obrazach, ilustrujących te proste i pozbawione znaczenia czynności, które wykonywane są każdego dnia w różnych miejscach na świecie. Po zmontowaniu stały się one literalnymi i figuratywnymi ilustracjami słów utworu (oczywiście
leitmotivem
są sceny ze śpiewającą Norą Jones, co poniekąd burzy siłę obrazu).
"Człowiek z kamerą" to
poetycki obraz Moskwy, Odessy i Kijowa lat 20., obserwowanych od wczesnych godzin rannych do godzin szczytu
. Dzieło znaczące dla rozwoju światowego dokumentu. Wiertow zastosował w nim wiele nowatorskich technik, jak np. podział ekranu czy przyspieszenie scen. Rewolucyjne jak na owe czasy było również umieszczenie w filmie scen pokazujących proces jego powstawania (taki dokument w dokumencie - dziś standard nawet w MV). Celem jaki chciał osiągnąć było "uchwycenie w filmie prawdy", pokazywanie fragmentów rzeczywistości, które zebrane razem mają większą wartość niż to, co można zobaczyć gołym okiem.
Człowiek z kamerą to film niemy (w póżniejszym okresie dodano do niego ścieżki dźwiękowe) można go obejrzeć w całości coćby
TUTAJ
(b. żywa muzyka) czy
TU
(The Alloy Orchestra)
Poniżej tylko fragment z muzyką Cinematic Orchestra:
Wykorzystałem:
promonews