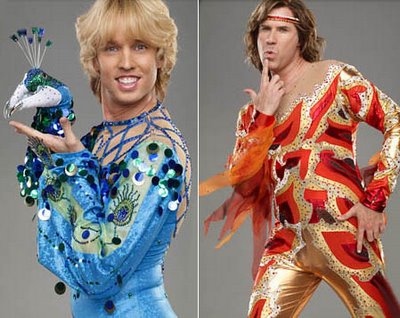 Zainspirowane poprzednią notką(można traktować jako jej uzupełnienie lub niepotrzebne zawracanie głowy).
Ostrza Chwały
(
Blades Of Glory,
USA) to komedia z 2007 roku, w której zagrali Will Ferrell i Jon Heder. Historia o męskiej parze biorącej udział w zawodach w łyżwiarstwie figurowym. Jedna z niewielu głupich i odmóżdżających amerykańskich komedii, która naprawdę mnie rozbawiła. Konwencją i stylem wykonania przypomina mi teledysk do
Trough The Night
.
Trailer:
A poniżej mash-up scen z filmu, w którym jako podkład muzyczny wykorzystano pieśń
Aerosmith
-
Don't Wanna Miss A Thing
:


Figo Fago
to jedyny mi znany miniserial komediowy o policjantach-gejach. Jako produkcja TVN robiona na potrzeby programu
Szymon Majewski Show
w założeniu była parodią kryminalnych cykli nadawanych w owym czasie przez tą stację. Główne role zagrali w nim Paweł Małaszyński (Ryszard Gaj) i Jan Peszek (Damian Pałocion). Seria nadawana był w 2008 roku i przez nią po raz kolejny na jakiś czas wkręciłem się w Show Majewskiego.
Poniżej odcinek pierwszy (resztę spokojnie odnaleźć można na YT)